Package # 6
Peter Henderson PH01 Bagpipes
Lyons Bagpipes & Highland Supplies, Bagpipe Starter Packages come complete with everything a piper will need to get started. Each set of bagpipes are fully inspected, set up as required and played to ensure that when the customer receives them they are instantly ready to play!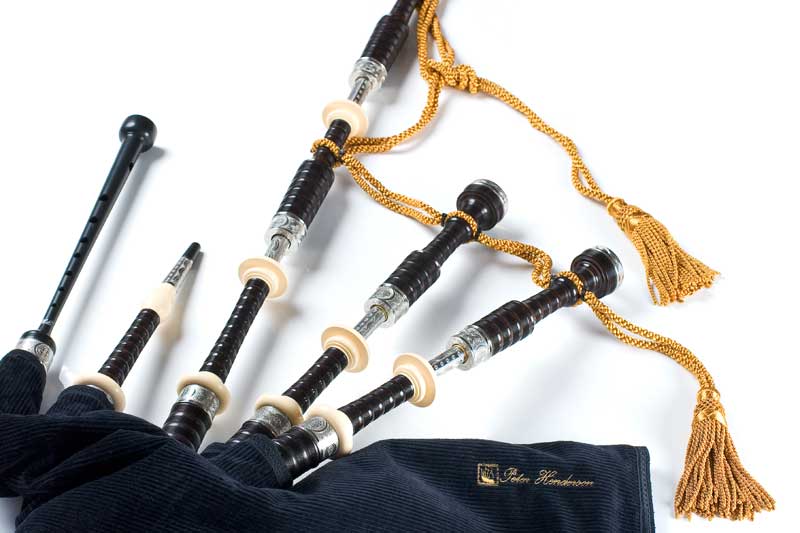 Click on Photo for more details
PH01 Peter Henderson Bagpipes are the first set of pipes in the Peter Henderson Bagpipes Range. They are made from turned African Blackwood which is fully combed and beaded and are finished with imitation ivory projecting mounts and machine engraved nickel ferrules and slides on each stock and drone. The bell tops are finished with machine engraved nickel ringcaps with imitation ivory bushes and the blowpipe is finished with a machine engraved nickel slide and imitation ivory mouthpiece.
PH01 Peter Henderson Bagpipes are available in 4 different machine engraved nickel designs:- Celtic, Zoomorphic, Victorian and Thistle. Antique finished machine engraved nickel is also available.
Machine Engraved Nickel Designs
PH01 Peter Henderson Bagpipes come complete with the following:-
Blackwood Pipe Chanter, Synthetic Zipper Pipe Bag, Synthietic Drone Reeds, Pipe Chanter Reed, Rubber/Copper Flap Valve, Velvet or Corduroy Pipe Bag Cover with Trim & Silk Pipe Cords
This package also comes complete with:-
Bagpiper Pipe Case
Lyons Bagpipe Maintenance Kit
Blank Reed Protector Stock
Moose Valve
Shepherd Tone Enhancers
HBT3 Bagpipe Tuner
Total Retail Price of Package is $3291.00
$2995.00 (save $296.00)
Add: Moose Moisture Control System Complete $60.00 (in place of Shepherd Tone Enhancers)
To Order Now:- sales@lyonsbagpipes.com
Back to Purchasing My First Bagpipes
Website Created and Managed by Lyons Bagpipes & Highland Supplies©