R. G. Hardie & Co. Bagpipes
PRICES FROM JANUARY 2017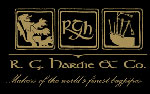 NEWS:- As of 2nd January 2017, all sets of bagpipes will incur a AUD$120 Import/Export Charge.
(African Blackwood has now been placed on to the CITES Endangered Species List and is subject to Import and Export Charges..........Please note when ordering)
R. G. Hardie & Co. Bagpipes now come with a 5 Year Warranty. For details print off the Warranty Details and Warranty Form. Fill out the forms and return to register your bagpipes.
R. G. Hardie & Co. Bagpipes come complete and ready to play with Synthetic Zipper Pipe Bag, Pipe Bag Cover with Trim, Silk Cords, Hardie Plastic Pipe Chanter, Synthetic Drone Reeds and a Chanter Reed.
Click on Photo's or Titles to Enlarge
Combed & Beaded Black Plastic with Black Plastic Ring Caps & Button Mounts and Nickel Ferrules.

$1420.00

Combed & Beaded Black Plastic with Imitation Ivory Ring Caps & Projecting Mounts and Nickel Ferrules.

$1420.00

(RGH00 Bagpipes Shown)

Plain Turned African Blackwood with Nickel Ferrules and Ringcaps. Blackwood Button Projecting Mounts.

$1840.00

Combed & Beaded African Blackwood with Imitation Ivory Ring Caps & Projecting Mounts and Nickel Ferrules.

$1950.00

Combed & Beaded African Blackwood with Imitation Ivory Ring Caps, African Blackwood Projecting Mounts and Nickel Ferrules.

$2070.00

Fully Combed & Beaded African Blackwood with Imitation Ivory Ring Caps & Projecting Mounts and Nickel Ferrules.

$2040.00

Fully Combed & Beaded African Blackwood with African Blackwood Projecting Mounts and Nickel Ring Caps & Ferrules.

$2145.00

Fully Combed & Beaded African Blackwood with Imitation Ivory Projecting Mounts, Ring Caps & Ferrules and Nickel Slides.

$2200.00

Fully Combed & Beaded African Blackwood with Imitation Ivory Projecting Mounts and Nickel Ring Caps, Ferrules and Slides.

$2250.00 Now $2195.00

Fully Combed & Beaded African Blackwood with African Blackwood Projecting Mounts and Nickel Ring Caps, Ferrules and Slides.

$2320.00

Fully Combed & Beaded African Blackwood with Fire Department Engraving Design.

Several different bagpipe options available with the Fire Department Engraving

$POA
Other Options:-
To Add African Blackwood Solo Pipe Chanter to R. G. Hardie Bagpipes $220.00 Now $195.00
To Order Now:- sales@lyonsbagpipes.com
Website Created and Managed by Lyons Bagpipes & Highland Supplies©