Gannaway Hide Zip Pipe Bag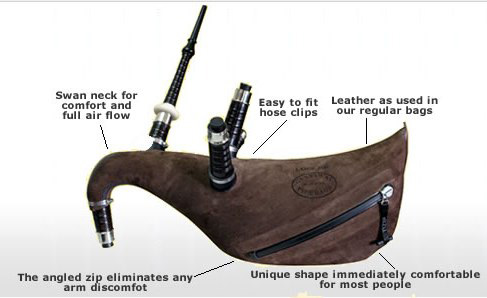 The Gannaway Zip Pipe Bag is a hide pipe bag with a side zip.
The Gannaway Pipe Bag comes complete with an Airtight Zip. It also includes 5 clamps for the rubber collars, a Bottle of Gannaway Leather Primer and a small tube of Zip Lubricant.
Fitting Instructions
Start off by installing the 3 Drone Stocks. Simply push them up through the Rubber Collars from the inside of the bag until the bottom of the stock becomes just short of flush with the bottom of the Rubber Collar. Then install the Blowpipe Stock in the same way.
Position the chanter stock where it will suit for comfort and then place and tighten a clamp to hold it in position.
Once all the stocks are in place and the clamps are tight, you can choose to tape over them to protect your bag cover.
The Gannaway Hide Zip Bag is now completely fitted. Test the bag for airtightness before putting the pipes back together.
If the Zip becomes dry, it is necessary to lubricate it using the tube of lubricant supplied. Lightly lubricate the teeth of the whole length of the zip. There are also 2 little indents at the end of the zip where a very small amount of the lubricant should be applied. The zip pull carries the lubricant across the zip itself each time that it is opened and closed. Each time the zip is closed, make sure that it is locked securely in place.
To Order Now:- sales@lyonsbagpipes.com
Website Created and Managed by Lyons Bagpipes & Highland Supplies©